What makes a kids paint environmentally friendly?
Most sources will tell you eco-friendly paints are those without chemicals or naturally made.
Most kids paint companies will state their paints have no toxic chemicals.
And, a few sources might even claim their paints are made using safe natural pigments.
All of these facts are true and that's typically where eco-friendly kids paint brands stop.
But, it's just the beginning in our efforts to create the most environmentally friendly acrylic paint for real art projects.

Here's what we do to go above and beyond in our efforts to protect children and the planet.
ECO FRIENDLY Nature of Art For Kids®, we create acrylic and watercolor paint that truly genuinely contains zero VOCs, no toxic solvents, no toxic anything just for kids!
Nature of Art For Kids® paints do not release any noxious gases or any harmful chemicals.
In addition, our  pigments are premium quality with unparalleled coverage and durability for many surfaces kids can paint. Our paints were designed by child art expert Spramani Elaun to truly mix primary colors to secondary colors just like a real artist. Our Five colors were designed to make a perfect 12-step artist color wheel.
Kids that learn to mix their own paints don't waste which means fewer of our planet's precious resources are used when painting.
Our thick opaque colors spread like quality acrylics and last longer. There are no strong smells or gases that release into the environment when using our premium kids paints. Zero VOC's!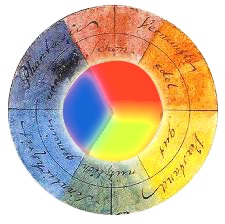 TRULY ECO FRIENDLY PACKAGING
We use bottles that are 100% post-consumer recycled and 100% recyclable. All our shipping packing materials are also recycled and sometimes reused! Our paints are 100% U.S. Made with a low foot print. American art teacher formulates right in her own state, manufactures, bottles and ships from California. Art teacher Spramani Elaun test and uses her own paints regularly at art events all over the West Coast.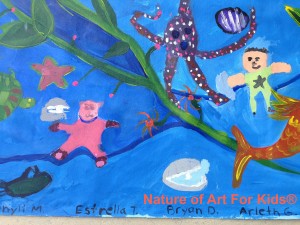 ECO FRIENDLY PRACTICES
Strong sustainability is our business motto. We make every consideration when conducting our business, how we operate, who we buy resources from, where we contribute our donations and art events. Nature of Art For Kids® is an aware company for future suitability.
ECO FAMILY OWNED
Nature of Art For Kids®, a brand synonymous with earth-friendly families, knows what it takes to sustain a creative business. A family-owned business started by Spramani Elaun in 2004, the paint company — known by locals as "the recycled crayon and paint company" — is made in San Diego, California and exported worldwide. Today, Spramani Elaun and partner Andre Tomei still personally sell and use their own paint in their art classes and events, and uses every batch and takes proactive measures to ensure kids use quality paints. The company started when art teacher Spramani Elaun could not find safe non-toxic kids acrylic paint to mix into a 12-step color for her own painting classes. Today you can most likely see them both in action at kid educational art festivals all over the West Coast.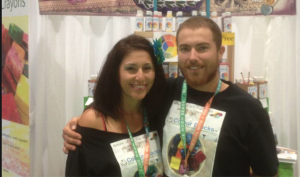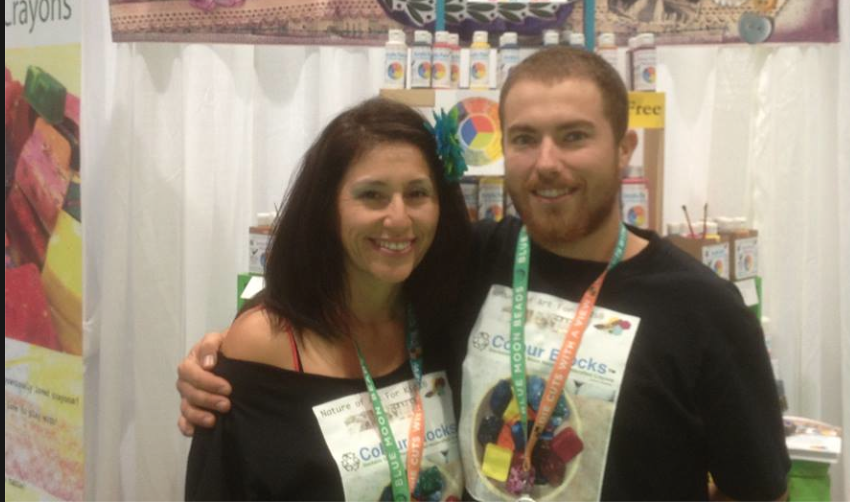 green

festival

– San Francisco Exhibitor
EarthWorks Earth Day –
San Diego Exhibitor

ENVIRONMENTALLY FRIENDLY PAINT
Conforms to ASTM D- 4236 In the United States, Labeling of the Hazardous Art Materials Act (LHAMA)

Made in the U.S.A.

Made with recycled bottles and labels

Supports Charity Year Round

Non-Toxic

Paint Biodegradable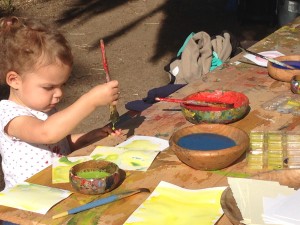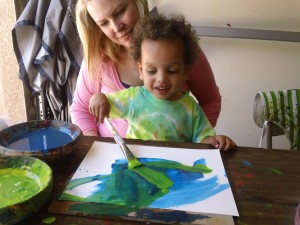 • Non-Toxic Certified and made by ACMI approved manufacture.
Please follow and like us:
About the Author: admin