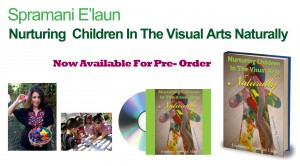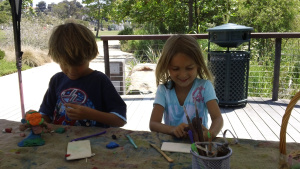 Young child making earth clay art with Spramani Elaun.
By Spramani Elaun
Sensory tactile exploring is beneficial for a young child's visual arts experience!
Excerpt from Nurturing Children In The Visual Arts © 2014:
Sensory Ability
Sensory ability, cognition and fine motor control are all linked together. Our sensory system includes vision, touch, scent, hearing and taste. This system plays a vital role how we gather information from our environment around. Collected sensory information is transmitted neutrally to our brain networks. Our different networks are always communicating; this can also be explained as cognitive processing. This type of cognitive processing is beneficial for deep learning and comprehending.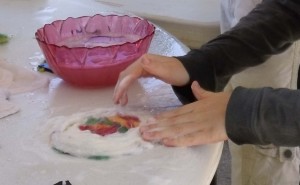 Nature of Art For Kids® Wet-Felting Sensory Tactile Art Project. Students touching natural wool and water.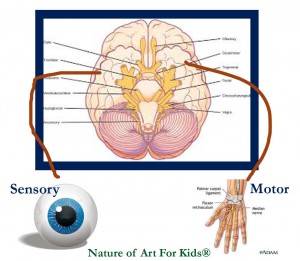 Tactile Learning By Sensory Touch
Tactile learning can be described as learning through touching with one's own hands. When a child touches an object, messages of information are sent through sensory nerves to the brain. Tactile sensory sensations can help young children learn and understand ideas. Visual art learning can happen from direct sensory touching by hands. Tactile art making stimulates learning in different ways than visual or audio learning. For a developing child, tactile exploring can also lead to better fine motor function and control. Tactile learning is recommended for highly active children or kinesthetic learning styles. These types of children learn better by physical action and tactile sensations. Visually impaired children greatly benefit by tactile learning sensations. A child's manipulations or artwork are their understanding from tactile experiences.

• Modeling clay play or sculpting small figures
• Coloring with crayons or oil pastels
• Painting with fingers and hands
• Painting with brushes
• Sponge painting
• Potato stamping
• Collage creating, cutting, tearing and glueing with hands
• Crafting with natural wool
• Wet-felting with hands
• Sewing and touching natural fabrics
• Mossaic designs with beads, stones or small embellishments.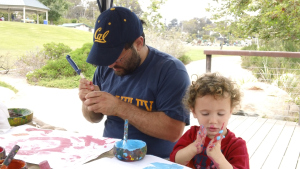 Nontoxic Art Supplies Only Recommended!
Tactile art projects involve touching art supplies directly with your bare hands so I highly recommended only use non-toxic art supplies. I always recommend young children under 12 years only use art supplies that are non-toxic.A young child's immune system is not as strong as the immune system of an adults. A young child may not be able to defend against coming into contact with toxic substances like an adult can. It's important to understand art supplies can be ingested, absorbed or inhaled accidentally. Many professional art supplies on the market can contain toxic ingredients which requires special care and instructions and usually intended for adults only.Be sure art products are made specifically for young children, this will protect their health in the long run.
Spramani Elaun is an American earth-friendly art teacher, child art expert and author of "Nurturing Children In The Visual Arts © 2014″


About the Author: admin