About School & Store

 
Nature of Art For Kids
Designer + mommy + homeschooler + natural art teacher + art supplier turned author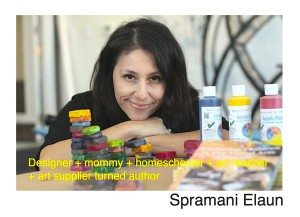 Hi, I'm Spramani Elaun, working mom and earth-friendly art teacher behind Nature of Art For Kids®. I'm a Creative Art Director turned homeschooling mommy and an art teacher turned author. I founded my own art school and art supply company all in a very natural way. Because of my unique experience and proven art method for children, I share these ideas in my new books and at quality art supply sales.
Manufacture, distributor and retailer for high quality non-toxic  art supplies.
Provides art classes, workshops, live art activity venues and art parties.
10% of profits donated to environmental, art education and non-profit organizations regularly!
100% committed to supporting our ecosystem.
U.S. Distributor WWW.ECOKIDSART.COM
Manufacture: Nature of Art For Kids®
Art School:
Nature of Art For Kids®
P.O. Box 443
Solana Beach, California 92075
If you have inquires please fill form, we will get
back to you as soon as we can.
Sales, Wholesale & Distributor inquires please call:
U.S.A. (760) 652-5194
All email inquires: treepassion@gmail.com
Spramani Elaun has nurtured visual art lessons for thousands of children. She is founder of Nature of Art For Kids® Art School, an Earth-friendly non-toxic paint manufacturer, and founder of Colour Blocks™ – the original square block recycled crayon company — & Kids Zone venues across the West Coast.
Author
Nurturing Children in The Visual Arts Naturally©
Clay Play©
Kids Painting©
Kids Color Theory©
Drawing on a new generation of natural teaching Spramani's unique child-led art method is changing the way children learn art today.
Spramani currently provides art classes, workshops, sponsors live art activity venues across the West Coast.
Note*
Nature of Art For Kids® Sells and distributes other companies art supplies.
To our best of knowledge we try our best to give customers the ingredients available.
Nature of Art For Kids supply recommendations come from a visual art teacher perspective and what works best for our  natural art teaching method for young children.